By C.L. Beck
It's rainy and dreary out. What's a body to do? I could always go eat cookies, but since that's not good for the waistline (yes, believe it or not, I once had a waistline), I decided to go play at
my Zazzle store
.
My husband, Russ, took this shot of a black cat with a pumpkin body and it made a dang cute Halloween photocard! (In my opinion :)
I thought I'd share it with you because ... well ... Halloween is coming. And I'm tickled with the card because it's so cute. Even Corky Porky Pie, the dog, thinks so.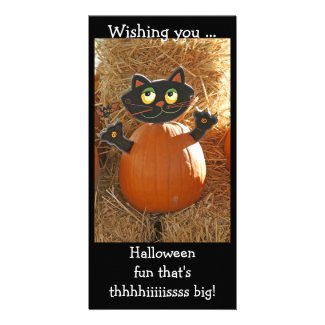 Not to turn this into an advertisement, but if you want to
order a few
, they're a really good buy at
10 for $10.00
, with envelopes included. That's a dollar apiece and you can't beat that price in a recession, huh?
I'm going back out now to make matching postage. How cool is that?
----